Rent a scooter or a car?
The ultimate rival in holidays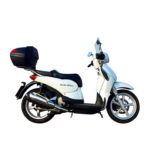 Alright this is a debate that everyone who is looking to rent a vehicle in holidays will do. "Should I go for a car or a scooter"?
For the records we don't own or hire any car vehicles but only scooters. So basically this article will be a bit biased!
The benefits of the car are many as also of the scooter. A car of course has…yes more seats available whilst a scooter is only for 2 people maximum.
Pretty obvious of course but it is something to consider when there are group of friends . It happened to me on a trip to Mykonos last summer when I was thinking to hire a scooter. In the end my and friends went for a car so we could travel all together. We shared the car cost in 4 so the cost per person was very low.
Car low costs
There so many local agencies and worldwide companies like Europcar that compete with each other for lower prices. Even lower than a small scooter sometimes.
That can be explained though with a lot of extra add ons that a customer can pay afterwards. Another reason for a car rental costing less or similar to a scooter is that strangely enough scooters and in general motorcycling business requires high maintenance and variable costs such as parts and insurances cost.
Another benefit of the car is the extra unlimited mileage allowance that it can do. In short a car can go the long mile around Cyprus but not the same of a 50cc scooter which can be limited locally in town.
Scooters are fun!
Let's consider the rental of a scooter now. It is definitely more fun, the end. No there is more for sure. Scooter take a fraction of a fuel that a car requires (it is possible to fill a tank with 5-7 euros and it can last for days).
When it comes to skipping traffic and finding parking spaces scooters are just perfect! Try to go to Riccos or Coral Bay beach on a summer day and you see how many car drivers are struggling to find a spot to park their car!
General enhanced feeling of been free. Let's admit almost all year around we found ourselves in a car, public transport place etc, we are caged! What best to ride a vehicle and feeling the warm air of the island around you?
As to the scooter mileage. You can easily explore Paphos in a short time without any planetary distances between hot spots.
With 50cc such as our Derbi models it is possible to cover an area of about 20km along the coastline and the centre. That's almost all the city.
If the 50cc is a very small engine or there is a need for further distance then no worries as there are styles for all. There is the Aprilia Scarabeo 200cc wich is a state of art by the Italians.
This scooter and any scooter at this size or bigger can be used for travelings not only in Paphos but further.
Conclusion
To conclude, the driving needs of the driver and passengers are play the most important role in deciding. A car is a choice when it comes to carry more passengers and belongings and doing long daily mileages.
Scooters give the amazing feeling of riding free and easy around the city and the coast, a feeling that no closed vehicle can give. Extremely low fuel consumption and the ability to park nearly everywhere are the strongest points as long as the low rental costs depending on the choice.
If you would like to see our scooter options or find out more about our motorcycle rental services simply visit our website.
Feel free to comment about your preference or experience regarding the mention points in the articles.
Written by Dimitris